Top 5 FinTech App Ideas For Startups to Boost their Expertise in 2023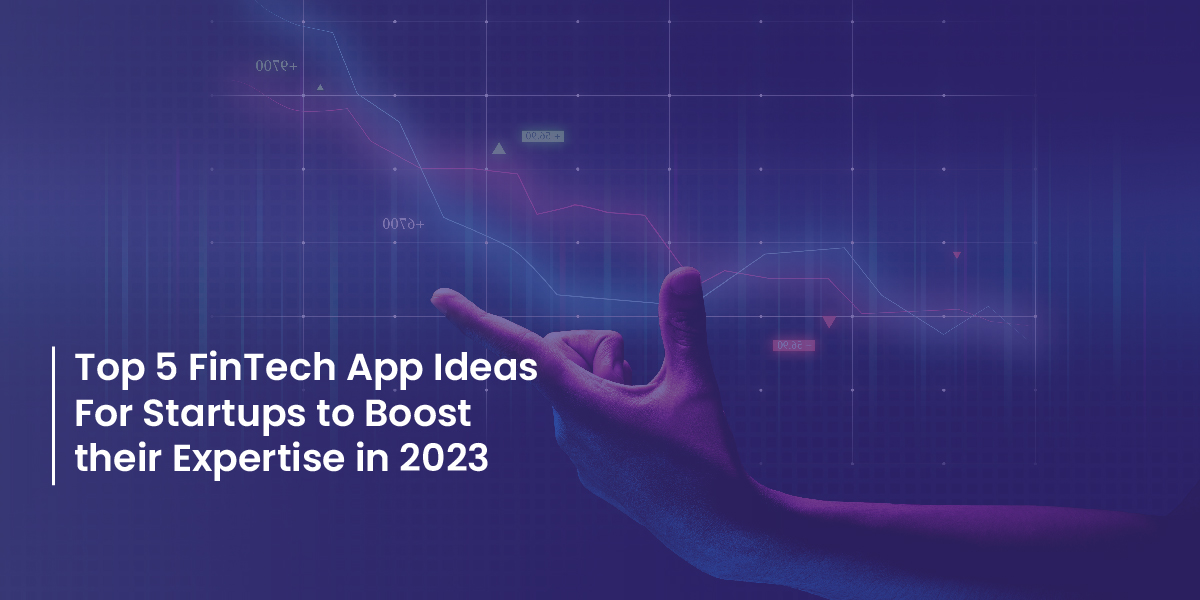 We live in 2023 and people worldwide are gradually adopting digital ways of managing their finances. Cash is also replaced with digital counterparts such as mobile banking applications and cards. But still, the tech sector is going strong with new ideas and digital counterparts. This is the reason the FinTech industry is growing rapidly and is expected to cross $188 billion by 2024. This blog revolves around the same industry and will present a complete walkthrough of the latest tools and technologies startups are implementing in 2023 to grow their market game. 
What are FinTech Apps and Why do Startups Need Them?
To start with FinTech applications, the first step for businesses is to understand the different types and categories each application falls into. FinTech is a combination of finance and technology and the applications that utilise this revolutionary technology provide a new way of making payments. All digital banking applications, loan solutions, online trading platforms, financial management software solutions and business accounting applications fall in the FinTech applications category. As everything is going digital, startups need FinTech solutions to stay competitive in the market. As far as startups are concerned, FinTech apps give them a kickstart in managing their business potential and revenue that ultimately impacts organisational growth and performance in the industry. 
Top 5 FinTech Applications to Start Implementing in 2023
In 2023, the FinTech trends in the market are getting revamped, and there are diverse options to choose from. There are many reasons for startups to employ FinTech solutions, but many businesses fail to execute their FinTech journey properly. According to the research from post-mortem, 38% of startups in the FinTech sector fail due to failure to raise new capital, whilst 19% do not implement the right business model. The experts in the tech industry are focusing on these top 5 applications that pack a lot of potential for the future.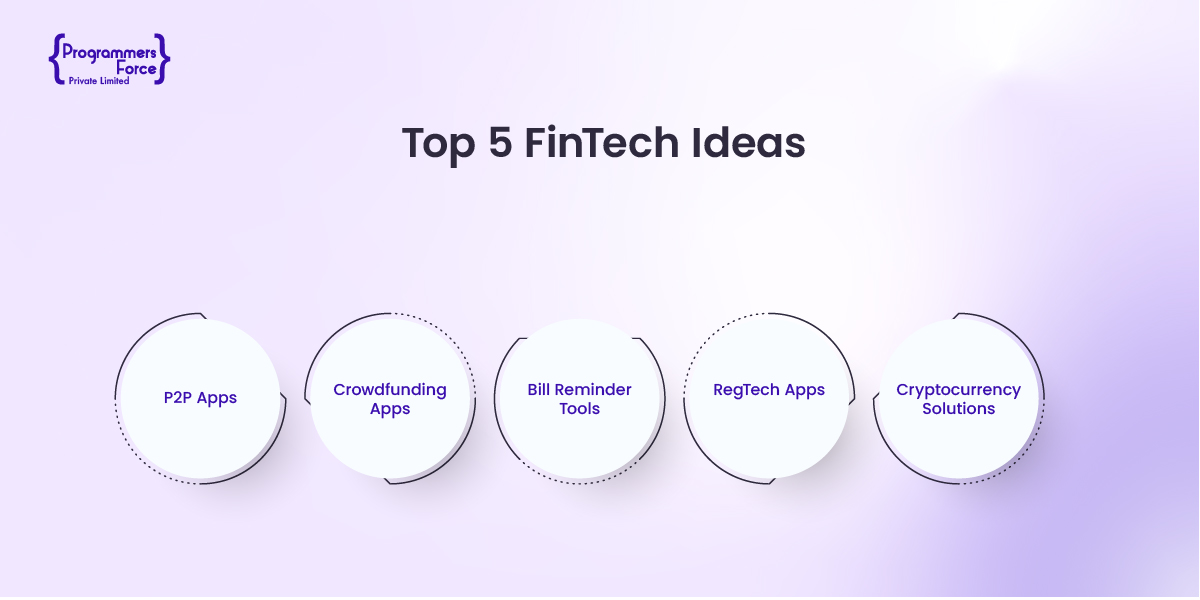 Peer-to-Peer Apps
The first type of application in the list is a Peer-to-Peer (P2P) payment platform that lets users exchange finances with each other. According to the research, 79% of Gen Z prefer P2P platforms instead of conducting their financial operations using a traditional banking method. From simple bill sharing to paying back borrowed money, P2P applications can provide a great way of getting an audience. Startups can take a step forward by implementing an effective UX with different banking and currency options. 
Crowdfunding Applications
The next application of the FinTech industry is crowdfunding applications. It is a great way for every startup to not only become the source of revenue but also to help people raise revenues for promoting their products. Businesses can build an application that will be non-profit and can help various other businesses as well as sole entrepreneurs and artists. Crowdfunding applications can be also used to enhance several payment gateways and QR scanners make it easy for investors to pay using these digital crowdfunding applications. 
Bill Reminder Tools
Has your business ever struggled to keep track of all your bills? With today's pace, it's easy to overlook due dates and risk late payments. Bill reminder tools, but the FinTech industry has come to our aid, that aim to simplify the procedure and ensure you keep on top of your financial obligations. These apps provide simple interfaces, customised notifications, and automatic reminders to help firms remember when their bills are due. By using bill reminder software, businesses can avoid late fines and have peace of mind knowing their finances are in line.
RegTech Apps
Individuals and corporations alike may find it difficult to navigate the complex world of regulatory compliance. This is where RegTech apps come in, leveraging the power of technology to expedite compliance operations. These apps use complex algorithms, artificial intelligence, and machine learning to help users seamlessly comply with rules. RegTech apps provide a comprehensive range of solutions to assure compliance while minimising manual efforts and expenses, ranging from data privacy and risk management to anti-money laundering and fraud detection. Staying on the right side of the law has never been easier, thanks to RegTech apps.
Cryptocurrency Solutions
Cryptocurrencies have taken the financial world by storm, and having the correct tools is vital if you want to enter this intriguing arena. Cryptocurrency solutions offer a variety of features that make it simple to acquire, sell, and manage your digital assets. These programs frequently provide safe wallets for storing your cryptocurrencies, real-time market data to keep you up to date on price moves, and user-friendly interfaces for easy trading. Whether you're a seasoned trader or a curious newbie, cryptocurrency solutions enable you to effectively traverse the crypto landscape and capitalise on the ever-changing market.
Technologies to Employ in Modern FinTech Applications
Technology plays an important role in the creation of FinTech applications, and as new methods are entering the market, organisations are revamping their existing digital applications to match the market needs and speed. Here are the most trending technologies in 2023 that are transforming the business and financial landscape are:
AI & Big Data
Artificial intelligence is the hottest buzzword in the industry. It is linked with big data and is the main driver of the market. Some tools are now a reality which was unimaginable previously. Now AI is powering almost every industry and FinTech is one of them. 
Blockchain
Blockchain technology is one of the main drivers of the digital currency market. World's top cryptocurrency, bitcoin works on this distributed ledger system. This technology is considered a decentralised solution that aims to distribute power from big tech giants to sole individuals. 
How Programmers Force Can Help
FinTech applications are key to surviving in the fast-paced industry. For startups it is crucial to develop new ideas such as crowdfunding applications, Buy Now Pay Later (BNPL) solutions, and RegTech applications. The Programmers Force United Kingdom focuses on creating solutions that positively impact the world. We develop FinTech applications that are built on the latest tools and technologies and assist businesses in achieving their objective. If you are looking to create a new FinTech application that stands out in the market, contact us now to get a complete walkthrough on how we ensure the right solution for your business.