The Top 5 FinTech Trends that Startups Must Adopt to Thrive in Banking Industry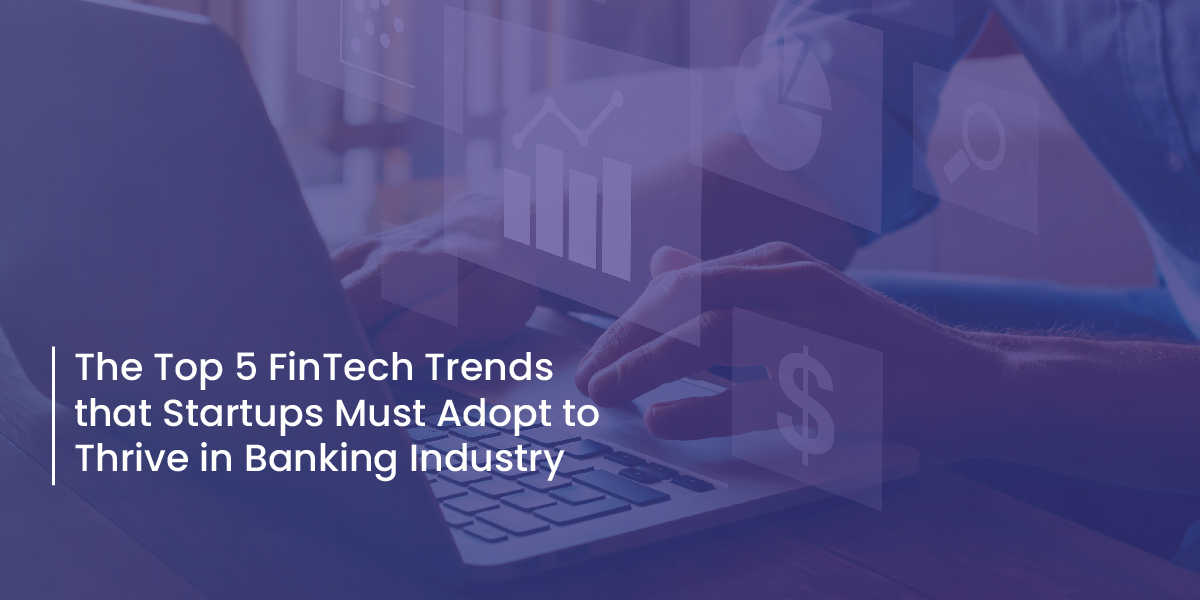 The financial industry has shown remarkable progress in recent times. The sector has undergone a complete revolution after the introduction of technology in financial offerings. FinTech has significantly improved the financial industry in almost every aspect, from moving finances worldwide to protecting them. According to the statistics, fintech financing has won the most investment rounds globally. It has raised over $75.2 billion globally in 2022. These numbers indicate the significance of FinTech in the business landscape, especially for emerging startups. This blog will discuss the top FinTech trends that startups should adopt to make a mark in the industry. Before moving on to the latest trends, let's see how FinTech is transforming finances in 2023.
How FinTech is Shaping up Banking Sector in 2023
It's 2023 and everyone is adopting the digital ways of doing things, and this goes the same for the financial industry. According to the statistics, about 90% of people use fintech services. With such an enormous market, the FinTech industry provides a secure platform for emerging businesses to operate on. This is the reason we see new companies starting their journey with a new FinTech offering. Another important aspect of FinTech is transaction security. With the introduction of AI, things are improving in terms of performance and stability. AI in FinTech is playing an integral role by helping financial firms to improve their existing services, also contributing to financial security and fraud prevention. Many new solutions in the FinTech space such as Buy Now Pay Later (BNPL), RegTech, etc. pack a lot of potential for the future. 
Top 5 FinTech Trends that Every Startup Should Adopt Right Now
Trends define the industry's progress and future possibilities. The FinTech industry is moving at a great pace and presents many exceptional possibilities to explore. There are game-changing ideas that use blockchain and other technologies to transform traditional banking processes. Consider it a decentralised playground where anyone with an internet connection can access financial services without intermediaries such as banks or brokers. For instance, DeFi provides a wealth of alternatives, ranging from loans and borrowing to trading and investing, making it the talk of the town in the ever-changing environment of finance. DeFi is sweeping the FinTech industry and has emerged as a big trend that cannot be ignored. Here are the latest trends in the FinTech market that most emerging startups target to provide services to their users.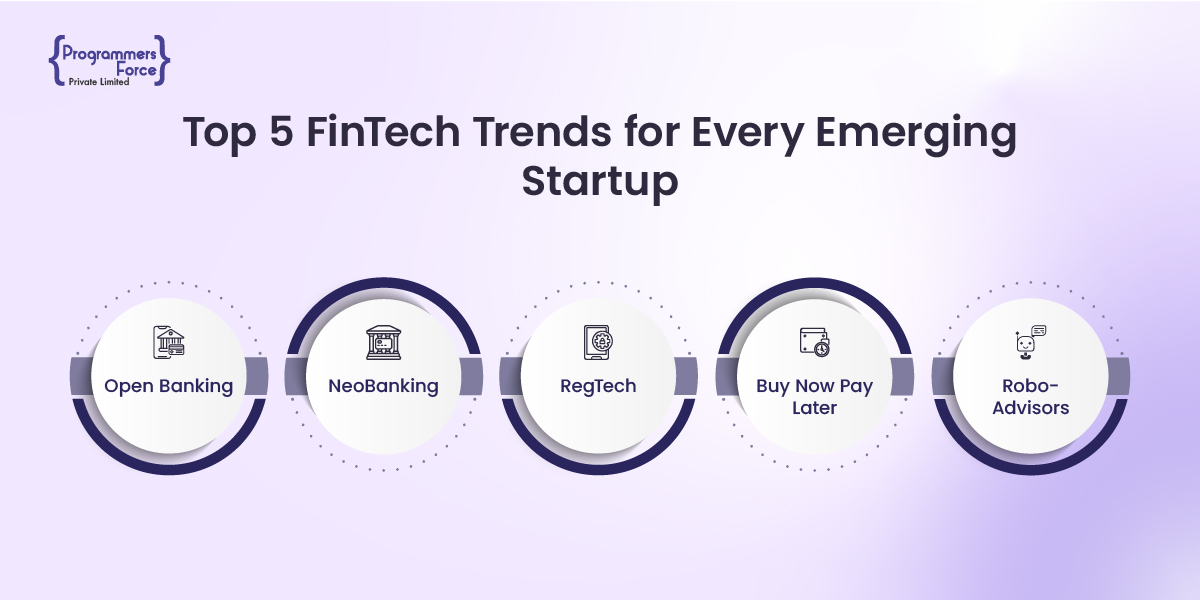 1. Open Banking

The idea behind this concept is to enable interoperability within the financial sector. It allows the addition of third-party payment service providers to access banking transactions and data from the bank's databases through Application Programming Interfaces (APIs). Open banking aims to control the exchange of financial information. It simplifies, accelerates and drives reliability in all financial processes, from purchasing products to just moving money from one account to another. Statista predicts that over 63.8 million people will utilise open banking services by 2024.

2. Neobanking

The second hottest trend in the FinTech industry is Neobanking. A NeoBank is a financial platform that possesses a digital-only identity. It solely operates online and does not have a physical presence. Neo Banking is becoming a go-to choice for customers as they offer several incredible benefits that fulfil the needs of every new-age user. It removes all the chores of traditional banking and processes customer queries much faster and seamlessly. It provides all the banking features such as savings accounts, credit cards and even loans, to keep up with the industry. Statista predicts the rise of neobanks in the future with over 39.1 million having at least one account by 2025.

3. RegTech

RegTech stands for regulatory technology and is the third biggest trend that is followed by the financial industry. This technology is a significant breakthrough in regulatory compliance monitoring. Laws and government standard practices govern it. RegTech plays an important role in identifying the problems in any financial procedures, keeps an eye on data security and makes it simpler for firms to keep in touch with their regulatory authorities. Banks use this technology to prevent all the fines imposed for non-compliance as it can save thousands of dollars. For instance, New York State authority imposed $42 million on the Bank of America Corporation for not providing clients with enough information on how their shares were handled.

4. Robo-Advisors

Robo-advisors are the new entry of software development solutions in the FinTech space. AI is the main driver here, as it is the backbone of every robo-advisor. These systems are personal financial managers that use AI solutions and ideas to help investors find the best ways to spend their assets. It provides complete demographics of previous financial activity that helps investors to make well-informed decisions. Robo-advisors are based on AI algorithms and need massive volumes of data to analyse and present the best investment alternatives as per their objectives. Robo-advisors work much faster than human advisors and adapt to the changing environment.

5. Buy Now Pay Later (BNPL)

BNPL has completely transformed the financial business, reshaping the way we shop and pay for our transactions. This innovative payment mechanism allows customers to divide their purchases into smaller, interest-free instalments, making large-ticket items more accessible and reasonable. BNPL has quickly acquired appeal among millennials and Gen Z, who value ease, transparency, and avoiding traditional credit cards due to its simple and flexible nature. As a result, the FinTech sector has embraced this trend, with an increasing number of startups and established players incorporating BNPL solutions into their platforms. BNPL is clearly here to stay, altering how we handle our money and paving the path for a more inclusive and customer-centric future in digital payments.
How Programmers Force Can Help
The FinTech industry has the potential to perform at the top tier in the upcoming years. With AI and other technologies coming into play, it is clear that FinTech will provide many innovative solutions. Open banking, RegTech, and BNPL modules are all such examples of the trending FinTech solutions that are here to stay for a while. The Programmers Force provides the best AI-based FinTech solutions that can help startups kickstart their venture in the financial industry. Contact us now to get a complete walkthrough on how we ensure the complete success of the business in the financial world.