AI Software Development – How to Check for the Right AI Consulting Services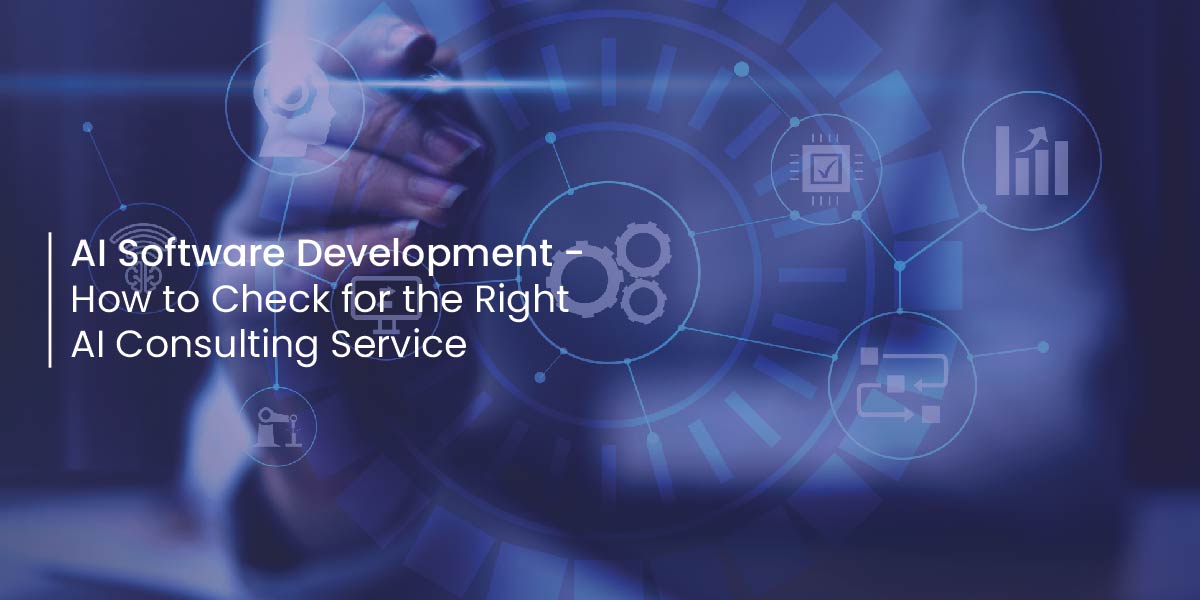 Artificial intelligence is a trending technology that is becoming more and more sophisticated with time. Due to its offerings and the ability to improve business operations with automation, many stakeholders have started investing in ML-based startups with the aim to revolutionise AI software development. These AI companies use artificial intelligence or more primarily machine learning to create AI-powered software solutions. This blog will take you through all the aspects of choosing the right AI software development company. 
What is an AI Company?
An AI firm is a company that creates and applies artificial intelligence technology to offer breakthrough AI software development solutions that have the potential to revolutionise industries. These firms may concentrate on creating algorithms, software, or hardware that may assist automate operations, give insights, analysis, and improve decision-making skills. Nvidia is an example of an AI corporation, founded in 1993. It is an IT company that develops and produces Graphics Processing Units (GPUs) for use in artificial intelligence applications such as deep learning, natural language processing, and computer vision.
Why Invest in an AI Software Development Company?
AI investments have risen dramatically in recent years, with corporations and investors betting big on artificial intelligence's promise to improve sectors and reshape the way people live and work. AI startups raised a record-breaking $73.8 billion investment in 2021, up from $37.4 billion in 2020. This marks a 97% increase year on year, reflecting increased trust in technology's capacity to fuel innovation and deliver profits. AI investment has also expanded, with healthcare and biotech businesses seeing a threefold increase in financing by 2021. 
As AI technology advances, it is apparent that investors see enormous prospects for development and disruption across a wide range of businesses. Artificial intelligence development companies have seen tremendous growth over the past few years. And in 2023, it is predicted to be more effective with new advancements in the field. There are no chances of slowing down in the sector of AI, so your business grows if you invest in an AI Software development company at the right time.  
How to Choose the Right AI Company
AI firms offer a wide range of services from utilising different core branches of artificial intelligence such as machine learning, neural networks and predictive text models for natural language processing. When looking to invest in an AI-based firm, always check for what service the company works on best and how it ensures the buyers can improve their existing product with the help of artificial intelligence. Here are some of the core points to consider when going to invest in any artificial intelligence company.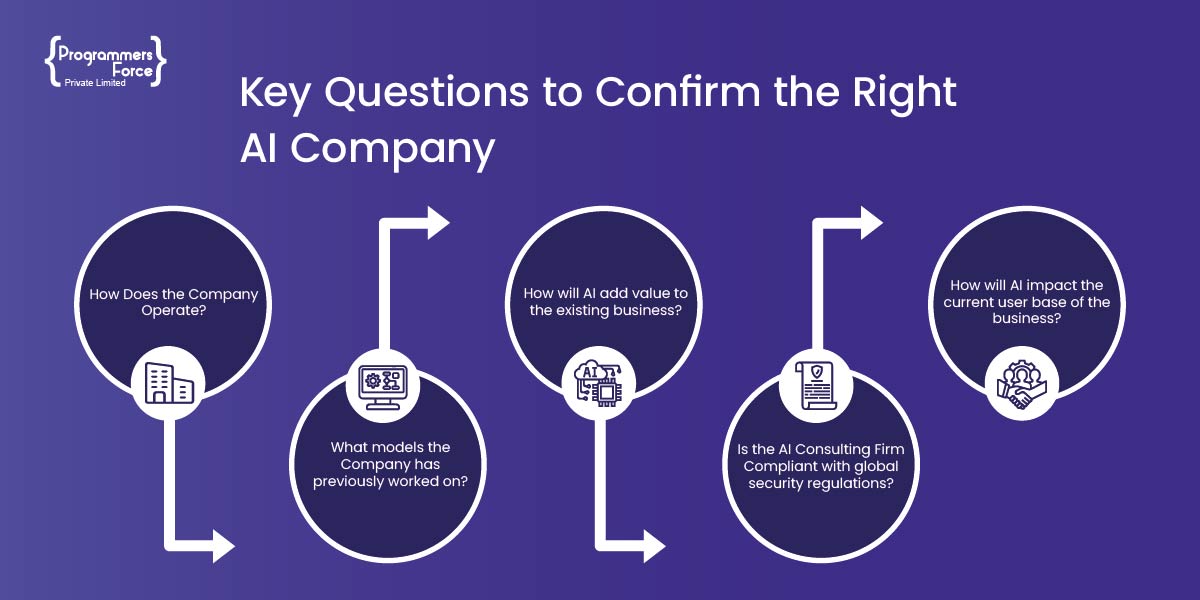 Talent
Whenever opting for any AI consulting firm, always ask various questions before signing a contract. The first one is to assess the talent usage of the company, and what kind of business problems it has previously solved using artificial intelligence. A suitable AI firm utilises a wide range of talent pool for different tech operations. For instance, they employ machine learning engineers for model development and predictive analysis and data science analysts to develop a complete data-driven strategy for future business operations. Always go for companies that provide a versatile set of talent and ensure to push the business on various artificial intelligence solution implementations.  
Platform Usage
The next question when determining the right AI company for your business growth is to look for the platform they use in AI implementations. There are several AI-cloud platforms available from different tech giants such as Microsoft's Azure Machine Learning Studio, NVIDIA Deep Learning AI Software and IBM Watson. And each platform has its advantages and limitations. This is why platform play is important for any firm to ensure they fulfil the client's business requirements, also making it future-proof. 
Market Value and Presence
The next step in the technical due diligence of any AI company is to check for its market presence and value. The best way to determine this score is to look for the AI firm's previous offerings and implementations, it's market reputation and client satisfaction ratings. Companies with a significant market presence often have more resources and financing to engage in R&D, which can result in more advanced and complex AI solutions.
An AI business with a significant market presence, for example, may have access to more data, which can be utilised to increase the accuracy and performance of its AI models. Furthermore, they may have a bigger customer base that gives feedback and insights, allowing the firm to adjust its goods to their client's individual needs.
Ethics and Regulations
Customers must believe that AI businesses are utilising their data and deploying their technologies responsibly and ethically, as AI technologies have the ability to impact people's lives substantially. Compliance with ethical rules and laws can aid in the development of consumer trust and the adoption of technology. Global regulations establish a framework within which AI businesses may be held accountable for their behaviour. Companies may demonstrate that they take their obligations seriously and are committed to ethical practices by adhering to norms and legislation.
Does AI Consulting Actually Fulfil your Commercial Goals
AI consultancy may be useful in achieving commercial goals if done appropriately and adapted to the organisation's unique needs and objectives.
A skilled AI consulting firm may assist organisations in identifying possibilities to use AI technology to enhance processes, products, and services, as well as achieve a competitive advantage in their sector. They can also help you choose the best AI tools and solutions for your organisation's goals and budget.

However, the effectiveness of

AI consulting Firms

is ultimately determined by a number of criteria, including the consulting firm's quality, the depth of experience of their consultants, the clarity of the organisation's goals, and the business's preparedness to execute the proposed solutions.

It is also important to highlight that AI consulting is a continuous process of review and optimization, rather than a one-time solution. Businesses must be prepared to engage in continuous monitoring, testing, and improvement to guarantee that AI solutions continue to satisfy commercial goals.
Wrapping it Up
Whenever investing in a Machine Learning consulting service through any AI Software development firm make sure to check whether they meet your expectations and demands. It is not false that AI significantly improves your business offerings and customer base by providing instant responses and effective future predictions. There are many risks involved when working with the wrong firm as they can impact your business across the market as well. But on the other hand, if evaluated well, AI consulting firms can prove to be fruitful with new AI-powered solutions and efficient business operations.