Artificial Intelligence Solutions – Everything You Need to Know About AIaaS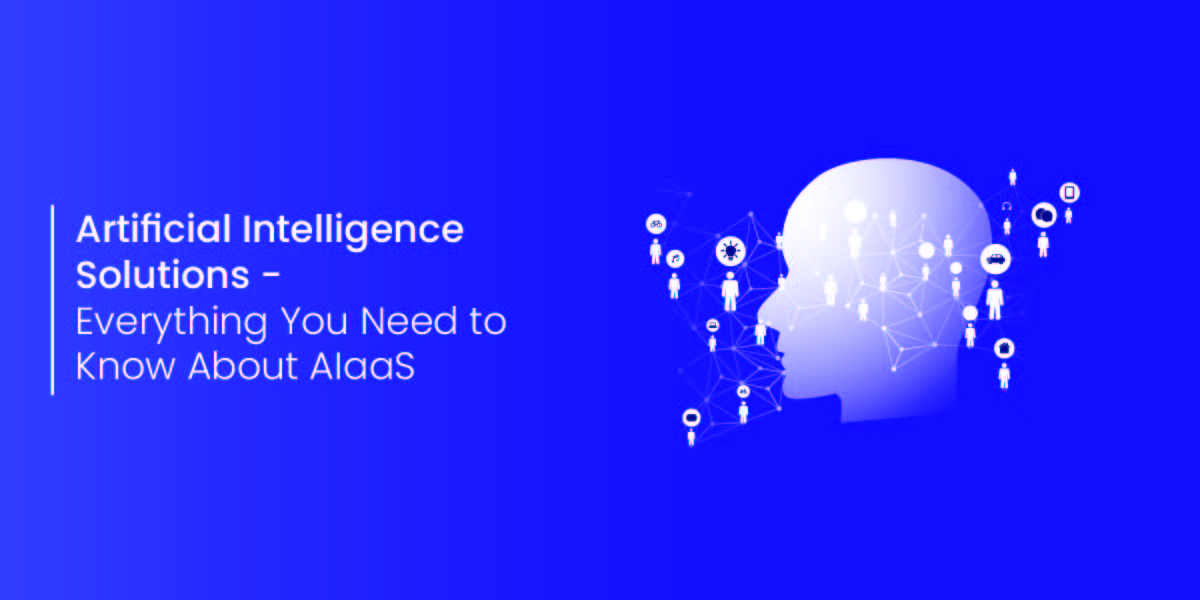 AI has taken the world by storm and every market is influenced by various artificial intelligence solutions. Almost every company, regardless of the industry it operates, uses at least one AI offering. It is the reason that the current AI market is rising up at an incredible pace. Now that artificial intelligence has become ubiquitous across different industries, it has now evolved into a complete field known as AIaaS (Artificial Intelligence as a Service). The product and the newly emerged concept are on the rise. In this blog, we will find what it means and whether it actually makes a difference. Before that let's get a quick overview that introduced the need for AIaaS.
Artificial Intelligence Business Market Overview
The AI market was valued at $328 billion in 2021, which later added almost $60 billion in 2022. Experts predict that the Ai-based solutions market will cross $1394 billion by 2029 with a CAGR of 20.1% during the forecast period. These figures indicate how much artificial intelligence solutions impact the current working procedures. It is important to mention that the COVID-19 pandemic forced businesses to opt for digital solutions and lead the way towards a successful implementation of AI. According to the IBM global index, various industries have deployed AI solutions with a 50% rise in employee learning and training, 35% improvement in low-code/no-code tools and 45% improvement in human resource processes.  
What is AIaaS?
AIaaS (AI as a Service) refers to all those AI tools that provide businesses with improved solutions backed with ML and other AI procedures. AIaaS provides businesses with a complete AI-based solution that relieves most problems of in-house tech teams. This also reduces the cost of hiring dedicated tech teams to implement modern solutions. AIaaS can be seen as a subpart of SaaS (Software as a Service) that can be called across networks using all the modern stacks and cloud computing protocols. 
AIaaS allows businesses to access these sophisticated technologies via an API and integrate them into their existing workflows. This has created an infinite number of opportunities for innovation and efficiency in industries ranging from healthcare to banking to retail. AIaaS is fast becoming a game changer for organisations wishing to harness the potential of AI without the prohibitive prices and technical knowledge that was previously necessary.
Types of AIaaS
Businesses can select from a variety of AIaaS options, each with its own set of capabilities and benefits. Cognitive computing, for example, includes replicating human mental processes to tackle complicated issues. Machine learning is another kind that employs algorithms to examine data and improve its accuracy over time. Here are some of the AIaaS types currently deployed across the internet. 
1. Digital Assistance

A major example of a digital assistance solution is ChatBot. These solutions are deployed across every website, we come across over the internet. These solutions are becoming a great way to expand business offerings. All the AI chatbots are trained to answer user queries related to business products and services. These digital assistance solutions are a great solution for all representative user agents, reducing their workloads and providing a more accurate description of business products. 

2. Cognitive APIs

Cognitive APIs (Application Programming Interfaces) are another type of AIaaS which enables corporations to acquire AI services to communicate with each other.  Cognitive APIs allow businesses to add all the required AI services into their application by using a general interface and paying for the services they subscribe to. This process helps the developers to build their software without starting coding from scratch and repeating all the AI implementation line by line as the API directly gives access to a pre-built solution. This solution just needs to be integrated at the backend after which it is ready to work. 

3. ML Frameworks

Machine learning frameworks are another type of AIaaS solution in which the developers can get full-fledged toolkits and ML-powered frameworks to create and train their own models. A major benefit of using these models is that developers can then create a new model to train it on the company's existing data. Machine learning frameworks also allow greater flexibility throughout the development process as they support a wide range of production environments. 
Benefits of Using AIaaS
AI as a Service offers various benefits to businesses. As mentioned above AI solutions increase enterprise capabilities across different markets. It adds value to the company without costing enormous amounts. In a nutshell, AIaaS is a cost-efficient solution for companies that do not possess full-fledged tech teams. Here are some of the advantages of using artificial intelligence as a service: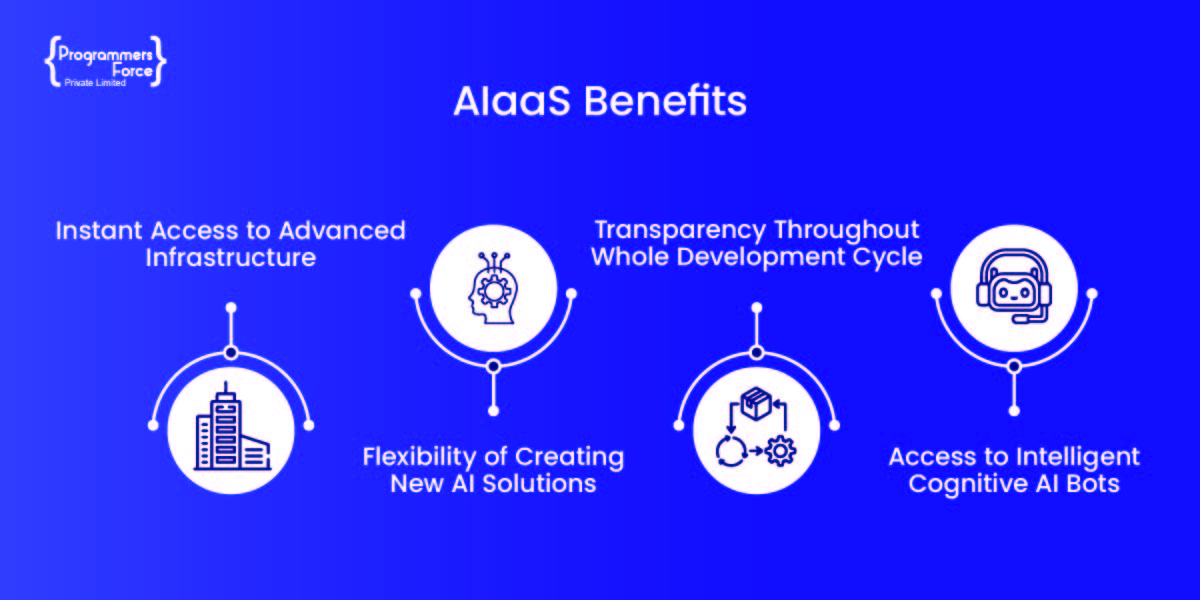 No Need for Tech Skills
Many non-tech businesses lack dedicated teams to implement AI solutions. For them, it is a great way to opt for an AIaaS solution. Also, the firms that are transitioning their operations from on-premises to the cloud also get a significant boost by opting for this business artificial intelligence solution. 
Advanced Infrastructure
Not every company has an excellent infrastructure to create AI solutions. Artificial intelligence processes consume a lot of time and resources, for example in machine learning model training procedures. AIaaS provides firms with the power of strong-performance hardware. Many parallel machines and speedy GPUs allow companies to continue working on the core business offerings, improving overall performance. 
Transparency
Hand in hand with lower cost, there comes usage transparency with AIaaS. Companies only pay for what they consume. Artificial intelligence as a service comes out of the box, no need to set up machine learning development environments on your business machines. It is a great alternative for companies that are new to the field of AI. 
Key Takeaways
As a rapidly growing discipline, AIaaS offers many excellent advantages to businesses, especially the early adopters of AI. But it is still relatively new and there's so much room for improvement in the future. With AIaaS, organisations not need to spend large amounts in building and maintaining their IT infrastructure, and instead leverage their business insights backed with complete AI solutions.