How UI Design Impacts User Experience in Web Development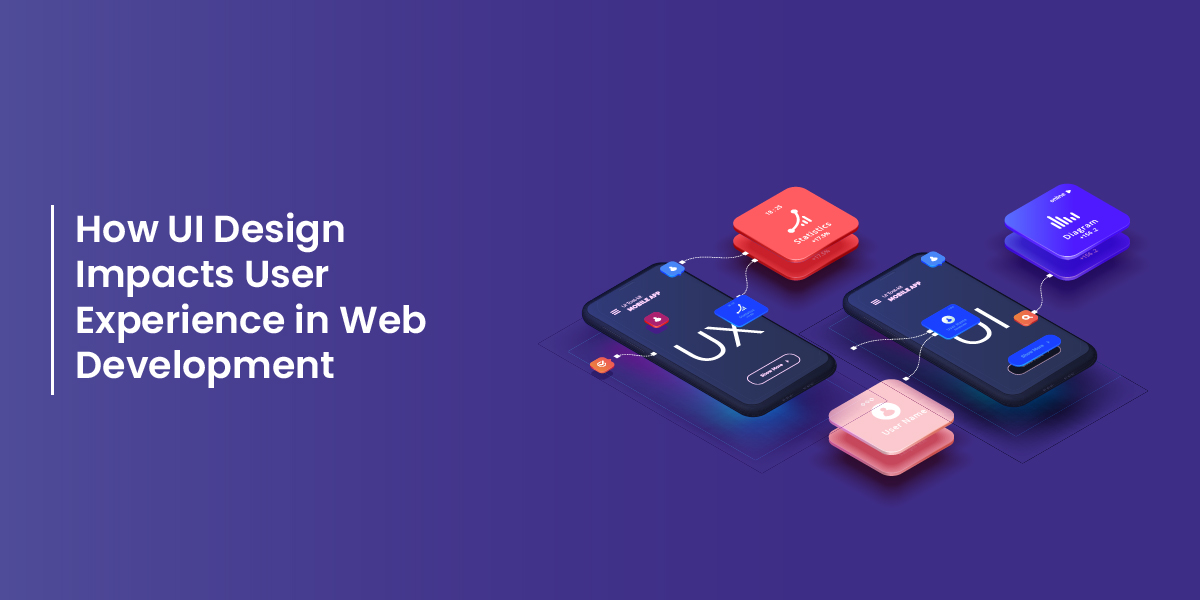 Web development has come a long way over the years. In the beginning, developers only focused on creating web solutions that were simple pages and only provided users with information. Now web development trends and the market are getting more and more competitive with new frameworks and tools. In 2023, web design is becoming an important aspect of modern web development. According to the research, a good and attractive UI can increase the website's conversion rate by 200%. This write-up will revolve around web design and centrally focus on pleasing UI's impacts on user experiences. 
What is Web Development in 2023?
To start with web design, let us understand how web development is shaping up in 2023. Today, web applications are capable of performing major business operations. This is why companies are shifting their operations to the cloud as it is more reliable and secure. Web development is an in-demand field which is getting even more competitive with new technologies like artificial intelligence and machine learning. Talking in terms of design, many front-end frameworks are available today that allow developers to create both aesthetically pleasing and highly efficient applications. 
How Do UI and UX Design Differ?
One major misconception among the audience is the difference between these two concepts, UI and UX. Both words are used interchangeably but are totally different in terms of goals and focuses. 
UI Design
User Interface design is the creation of visual and interactive counterparts of a website, webpage, and digital product. UI design contains all the elements, such as buttons, menus, forms and typography. The more attractive the design of a simple element, let's say a form, the better the UI design is. The goal here is to create a user interface that is both intuitive and visually appealing to the user. 
UX Design
UX design, on the other hand, is the creation of the overall user experience of a website, app or product. It covers everything from initial impression to the ease of user navigation, ultimately, end-user satisfaction. In UX design, web designers aim to provide a positive experience to the user that increases engagement and satisfaction rates. The major difference between both is that UX is more focused on user satisfaction, whilst UI provides a more well-designed way of working with the webpage.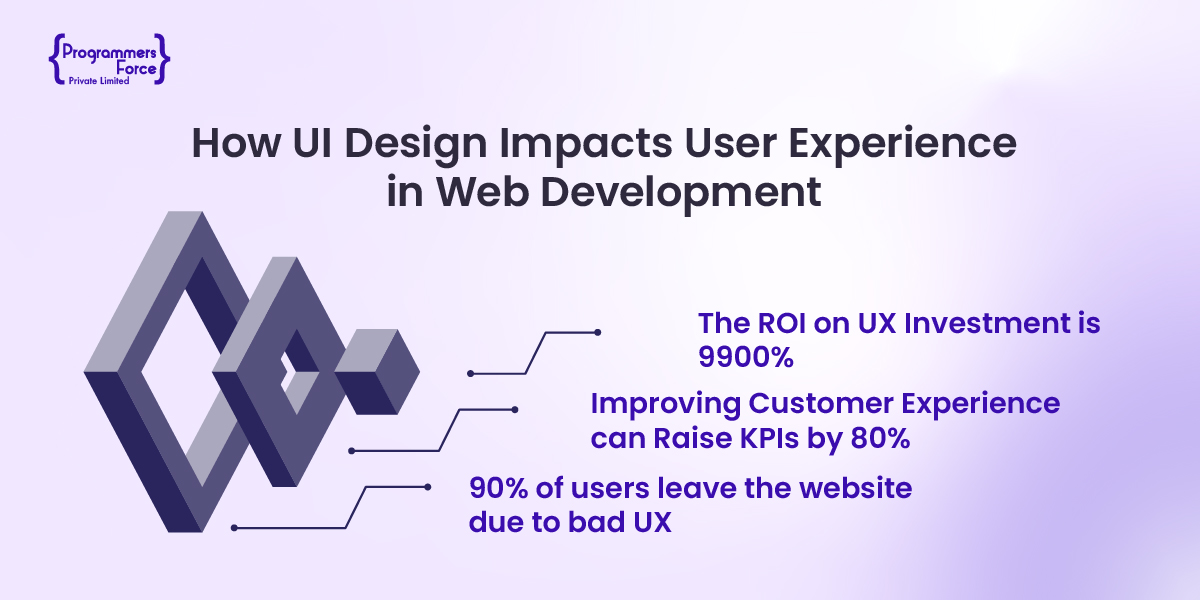 How a Great UI Boosts UX
UI design is an essential aspect of creating web solutions that provide an easy-to-use interface, enabling users to interact with the business applications seamlessly. Here are some key UI design principles that businesses should implement when creating web applications or hiring a web development company for their digital operations.
Layout Consistency
The first and most important element of an excellent UI that can boost user experience is its consistency in typography, interface interaction, colour scheme, component sizing and the placement of different elements on the webpage. Consistency also ensures that the UI is uniform in different website components and provides a seamless experience to the user. 
Easy Navigation
The second most important concept of front-end web development is its easy navigation which significantly boosts user experience. Navigation is traditionally placed on the top of the webpage. But new user interface design practices are reshaping the navigation panel. Most websites confuse users with a new design and it takes time for the user to adapt to it. The best practice in front-end web development is to provide an easy-to-learn navigation menu that is clear and allows users to find the information they need. 
User Feedback
It is essential to get user feedback on the interface, design and feel of the web application. This is an important aspect of improving the business website layout, so users can understand how their actions affect the overall product. Businesses that do not respond to user feedback often get low engagement from digital platforms and need to find new ways to market their service and products such as social media, which is ultimately costly. 
Accessibility
Another crucial aspect of UI design is its accessibility for different types of users as the web is a universal platform and is available to a wide range of audiences. Accessibility in web development is the element that allows users who have disabilities to access web solutions via alternative ways. For instance, people who are colour-blind need to have an option that turns the whole website's UI into a mono-colour. UI designers need to consider accessibility as the major aspect of UX and design a product compliant with accessibility standards. 
Visual Hierarchy
Visuals look and feel is the last in the list as it is self-explanatory. This comprehends the order in which the UI components are placed on the web page. User interface designers need to highlight the important components within the webpage that require the most user attention, for example, a how-to-use section within a business application. An excellent webpage is well constructed, visually defining the priority of each element and making important components stand out from the rest.
How Programmers Force Can Help
UI and UX are both important concepts of front-end web development and define the way users interact with the components on the webpage. The Programmers Force provides the best-in-class web solutions that help businesses shift their operations to the cloud without any hassle. The fully composed front-end architecture allows organisations to digitally create a sound presence, attracting users from everywhere worldwide. Feel free to read more about us to get a full walkthrough on how we ensure the right UI design for your business.