How Artificial Intelligence is Transforming Web Development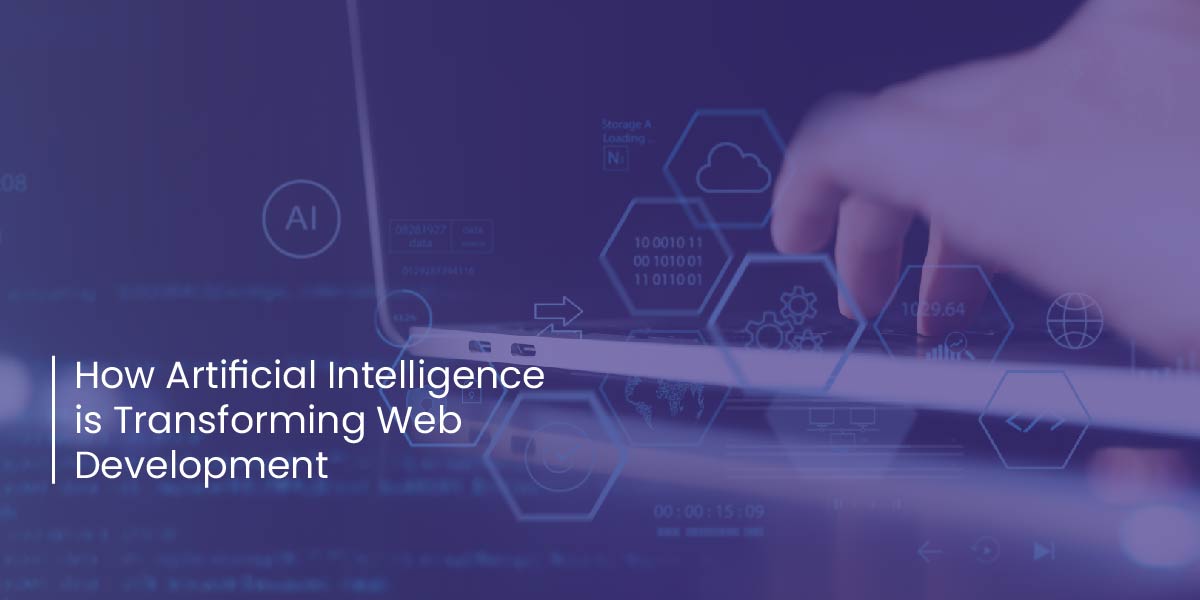 Artificial intelligence and machine learning are modern approaches to app design and development. These technologies have taken almost every industry by storm as they provide fast results. The web development field is no different. AI is transforming the complete development process with powerful machine learning operations and processes. The statistics also indicate the same as 51% of the executives state that their primary focus for AI is to improve the features and performance of their existing systems. This blog will cover all the applications of AI in web development, from basic design to automation and testing. 
Issues Web Developers Face when Creating Apps
Let's start by explaining the need for artificial intelligence in modern web development. It started from static HTML pages; now, the web can run complete enterprise operations. The developers have experienced great challenges in this evolution of websites and web apps and these challenges are increasing as web technologies progress. Some of the major ones are:
Time limitations as complex web apps are very intensive

Costs for testing, fixing and maintaining complex web applications

Matching interface needs of diverse customer base with a range of different devices
AI aims to assist in all the issues faced by developers with its data processing algorithms that offer developers a range of tools to get their work done.
Why Businesses Adopt AI for Web Development
There are several challenges to modern web development, especially in complex enterprise applications. Companies require developers to create apps that are efficient and also can be scaled up and down as per their needs. Almost every web development company has incorporated AI into their operations to meet these client demands. This implementation helps them boost development operations and provides access to high-quality data models that are self-learning and can be reused in the future. According to the numbers, the global spending on AI technologies for web and other software solutions will cross $98 billion by the end of 2023. Here are some ways AI can help revamp the web development process.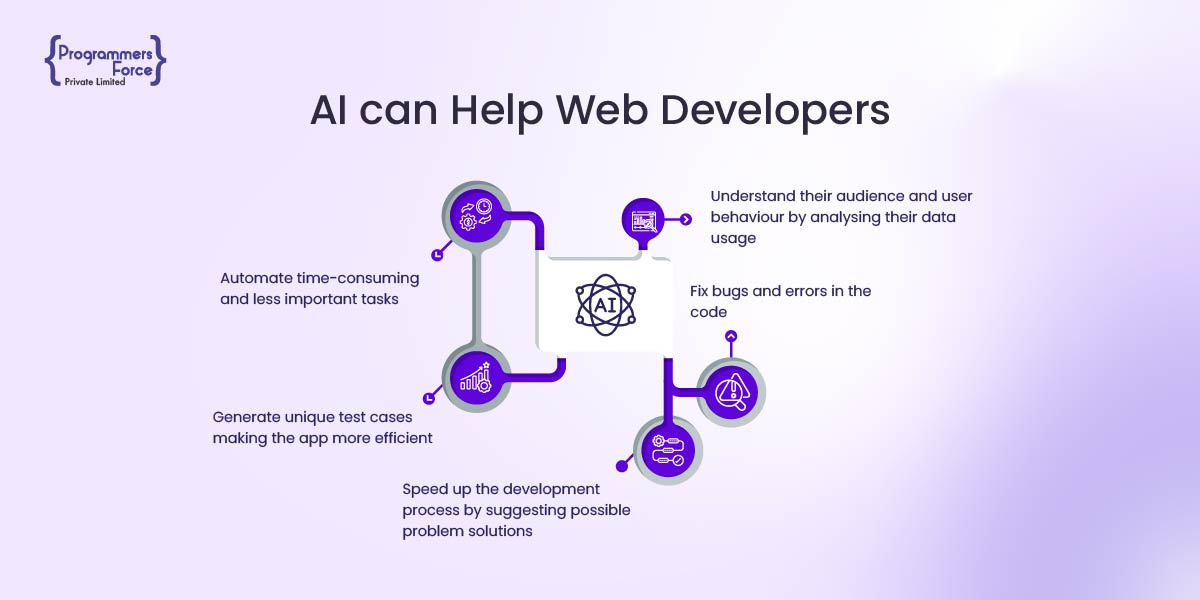 Programming Assistance
Programming logic is the most important part of any business website or web application. And as the application gets larger and more complex, it becomes difficult for developers to implement different logical solutions. Even after they figure out the right solution, there are possible chances of bugs and errors that can lead to system failure or memory overflow. At this point, AI can be of great importance. It analyses the code and can help developers to debug their programs, also suggesting the time and space complexity of every algorithm within the project. It can also assist in less complicated website development projects by significantly reducing the development time. 
Faster Development
There are many components on a web page, such as the CTAs that are similar in different web applications. Other than components, different areas of a web application require developers to write code for less important areas, such as marketing forms and "subscribe to newsletter" checkboxes. Writing each manually takes up time and results in delays in project delivery. Here AI can be of great use to speed up development. Developers can implement all these operations with single clicks and every time, the result generated by the AI system is unique. This significantly improves the overall development time and developers can focus on more important and complex web app components that are crucial for businesses.  
Testing Assistance
Testing is a necessary part of every web application before it goes live. And this is the process where developers face a lot of a hard time testing their code and outputs. Still, there is a high chance that they might miss some test cases or maybe different errors emerge in the future due to the user's invalid inputs. AI also excels here. Due to their vast dataset, these machine-learning models can identify many test cases that help developers make their apps more stable and efficient.
Challenges of Using AI for Web Development
As AI brings significant upsides to web development, there are still several challenges every web development services provider needs to be aware of. 
Accuracy
Accuracy is critical in using AI for web development since the success of the algorithms is strongly reliant on the quality of training data. If the data used to train the AI model is wrong, the results might be unreliable and incorrect. For example, if an AI-powered chatbot is trained on the wrong data, it may respond to customer inquiries incorrectly, resulting in a bad user experience. It is also vital to ensure the accuracy of the data used to train the AI models in order to achieve dependable outcomes.
Data Security
When it comes to employing AI for web development, another big barrier is data security. To be effective, AI systems require massive volumes of data to be taught, implying sensitive information may be exploited. It is critical to handle data properly and to safeguard data privacy and security at all times. With growing worries about data breaches and privacy violations, it is essential to deploy strong security measures to secure both the data required to train AI models and the data created by AI-powered web apps.
How Programmers Force Can Help
Finally, the rapid growth of artificial intelligence is reshaping the area of web development by providing developers with new tools and capabilities for creating highly functional, customised, and efficient websites. AI simplifies the web development process and provides surprising outcomes, from automated code creation to predictive analytics. 
Harnessing the potential of AI in web development has become more important than ever as organisations attempt to remain ahead in the competitive online market. Don't miss the opportunity to use AI's disruptive power in your web development initiatives. Contact us right away to learn how our web development company UK can assist you in creating great websites that drive company success.