Web Development – A Good Career to Choose in 2023?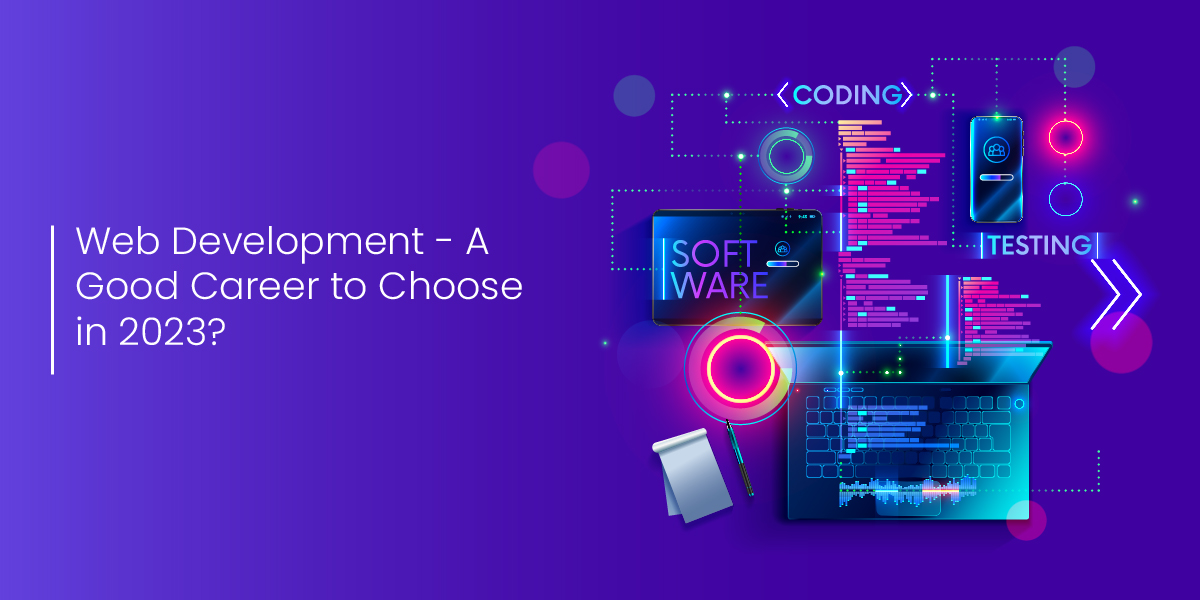 Our life today revolves around technology adaptations that have revolutionized the way we learn, seek and grow. From the simplest of mobile apps to the most groundbreaking inventions, everyone is relying on technology. Recent research has shown that HTML is still the most commonly used technology for building web applications. But, with the addition of new frameworks and web libraries that automate most tedious tasks, it can be difficult to predict what the industry will look like in the future.
Aspiring developers might be wondering whether a website development is a good career choice in 2023 or not. With the advancements in technology and the ever-changing user expectations, it's a valid question to ask. But let me tell you, there's still a high demand for skilled web developers, and the industry is showing no signs of slowing down.
So, if you are passionate about building websites, don't let the fear of uncertainty hold you back. Keep learning and adapting to new technologies and trends, and you'll find plenty of opportunities to succeed in this exciting and dynamic field.
This blog will help you gain better insights into the future outlook of website development as a career.
Is Web Development in Demand Right Now?
Good news – Web development is still in demand, and has grown well in recent years. The survey reveals that an experienced Web Developer earns £50,000 per year in the UK. This marks web development as one of the most promising careers in the tech industry.
Why Choose Web Development Over Other Careers?
You know, the tech industry is always buzzing with new advancements and emerging fields. Some of the hottest areas right now include blockchain, machine learning, mobile app development and game development. These fields are relatively new and hold a lot for the future.
But despite all the hype surrounding these new areas, web development remains a mature and solid field that still outshines most of them. Why? Well, for one, web development is incredibly versatile and adaptable, which means it can be used for a wide range of applications.
Growing Demand for Websites
Everyone needs a website in 2023, be it a startup or a full-scale business, websites and web apps have become the basic need of all. And the demand for websites is expected to grow, as businesses increasingly rely on their online presence to attract and retain customers, especially after the pandemic.
It is becoming a crucial aspect for organisations to have a full-fledged digital presence to ensure they are in line with the latest market trends and don't fall behind competitors. As a result, website developers will continue to be in high demand, especially those with specialised skills such as responsive design, user experience (UX) design, and mobile-first app development approaches.
Emergence of New Technologies
Website development is now completely revamped with new technologies and frameworks such as NodeJs. In fact, HTML, CSS, and JavaScript are still necessary tools for developers but with the addition of new technologies such as artificial intelligence (AI), blockchain, and progressive web apps (PWAs), it is expected that web development will grow more than ever in the future. Developers who can keep up with these emerging technologies and adapt their skills accordingly will be in high demand and have a competitive edge in the job market.
There are many AI Software development tools that enable machine learning-assisted web development, improving performance and reducing the overall time complexity of the project.
Flexibility and Autonomy
Web development is the most versatile field which is evolving at a great pace. The introduction of PWA and other latest trends in the web landscape has expanded the scope of web applications to work natively on different devices. One of the other benefits of a career in website development is the flexibility and autonomy it offers. Many website developers work as freelancers or remote workers, allowing them to choose their own schedules and work from anywhere in the world. This can be an attractive option for those who value work-life balance and a flexible lifestyle.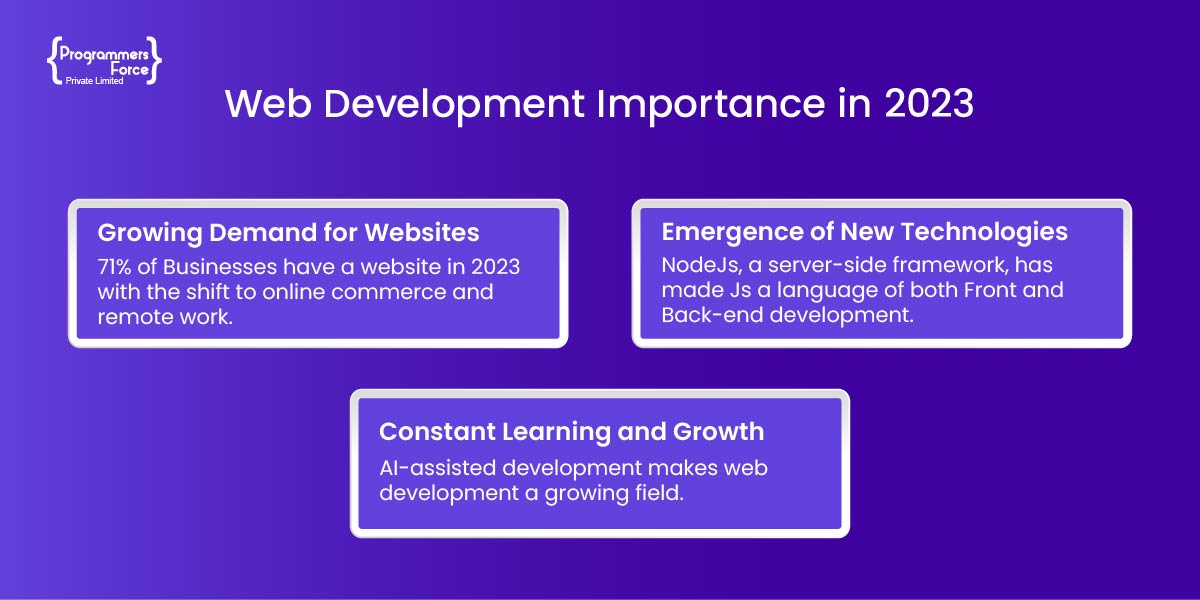 Competitive Salaries
Web development is still one of the highest-paying jobs in the tech industry. And these wages increase with the skills and experience of the developer. People looking to take Website development as a career can have a secure future as the average salary of a web developer is around over £50,000 per year in the UK and $76,000 per year in the United States. A custom web development company also provides more salary options varying on the type of projects they hire for. With the high demand for skilled developers, salaries are expected to remain competitive in 2023 and in the future as well.
Constant Learning and Growth
The learning curve of web technologies is relatively uniform as compared to other innovative technologies. Website development is a dynamic field that requires constant learning and growth. As technologies evolve and new trends emerge, developers must stay up-to-date with the latest tools and techniques to remain competitive. It is also important to mention here that with new applications, especially cloud computing standardisation, web technologies are becoming more important for businesses as they transition from on-prem operations to the cloud. For those who enjoy learning and staying on the cutting edge of technology, website development can be an exciting and fulfilling career choice.
Cloud computing is doing wonders for most businesses in terms of performance and most importantly security!
Programmers Force, Web Development and Career Choices
If you are thinking about entering the tech industry, web development is definitely a field worth considering. Its stable and rewarding career path offers plenty of opportunities for growth and innovation. Who knows, you might just be the next big thing in web development! For those who are passionate about technology and enjoy problem-solving, the Programmers Force is here to assist them in their web development journey. We provide full-scale custom web development solutions and are looking for innovative web developers, if that's you, contact us.