Why Every Enterprise Needs a Custom Web Application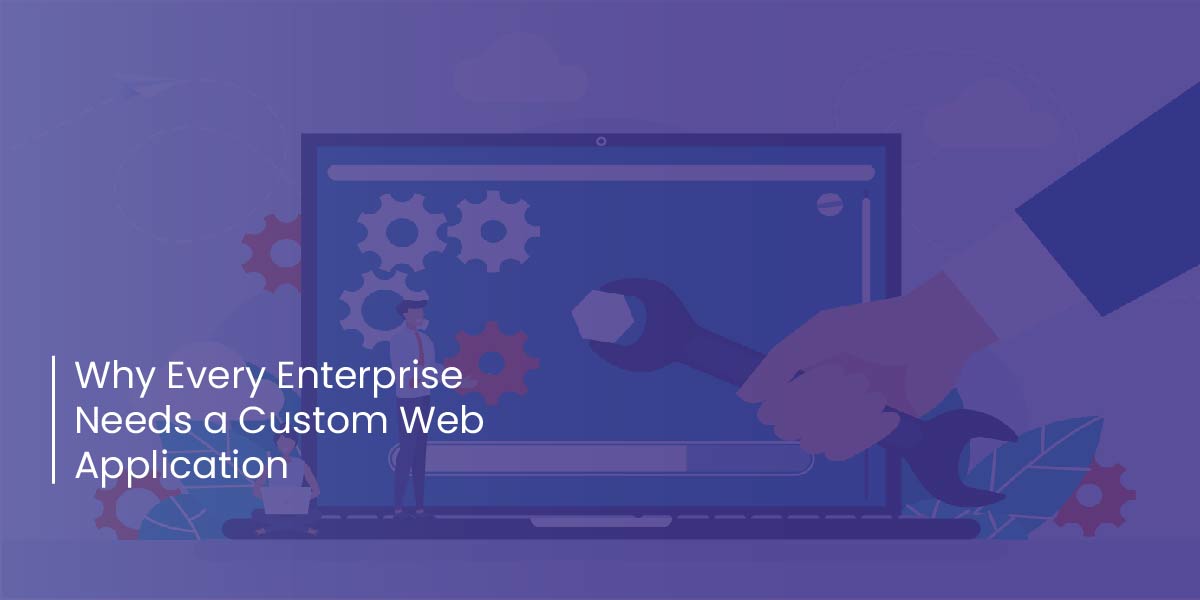 Web applications have become an essential part of every industry and business, regardless of whether it is a small agency or a large-scale corporation. It solves most of its digital problems as it organises all the operations under one platform. Businesses that rely heavily on digital channels opt for more specialised web applications that serve their purpose in the best way possible. They hire a web application development company to build a custom web application that is designed to the requirements of the business and its stakeholders. These custom solutions have significant advantages over simple web apps. According to the statistics, the global custom application development market size was valued at 24 billion and is expected to grow at the Compound Annual Growth Rate (CAGR) of 22.3% from 2022 to 2030.
What is a Custom Web Application?
Every business is different, at least in terms of operations and workflow. The out-of-the-box tools and services are not always enough to fulfil all the stakeholders' requirements. This is where custom web applications come of great use. A custom web application is the creation of a full-fledged web solution that is built based on business requirements, objectives and constraints. For instance, a company wants to create a web application to handle its sales and inventory information. Creating a custom web application will include a solution that is particular to the organisation's needs, such as allowing for multiple users, real-time updates, and advanced reporting features. On the other hand, a simple web app would be a pre-built solution, such as a basic spreadsheet or an online inventory management application.
What Does a Custom Web Application Offer?
A custom web application offers several advantages over pre-built web applications. As custom web application development involves a complete understanding of the latest web technologies and principles, it is complex but much more advanced than a simple web application. Here are some of the advantages of a custom web application.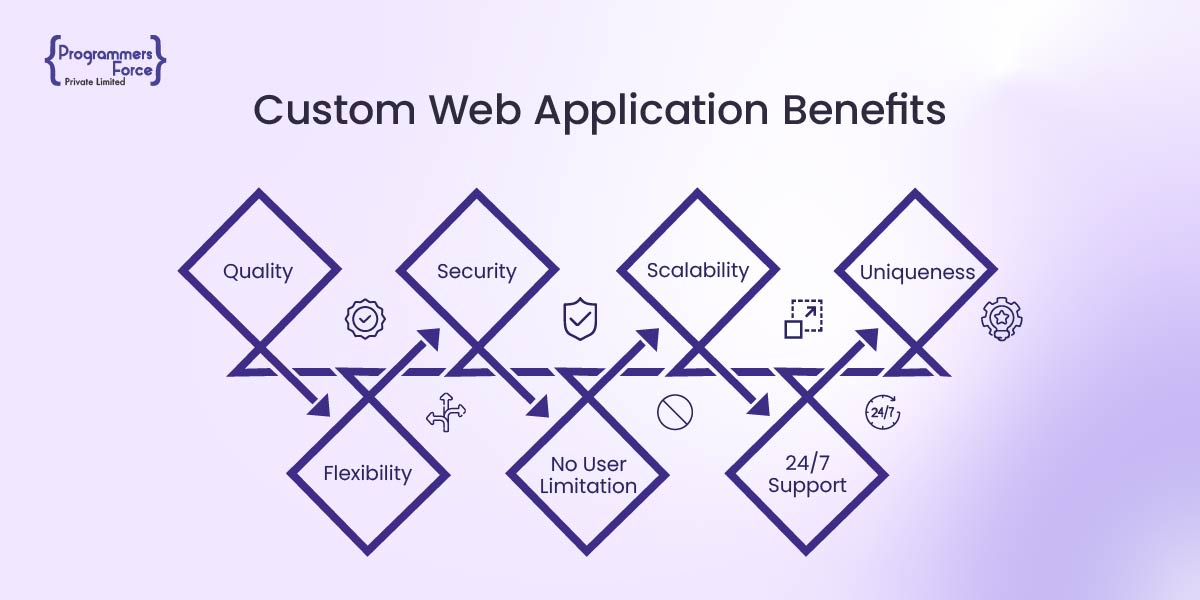 Quality
Although the pre-built web applications are accessible to a large audience, they vary in performance and overall quality. If a business deploys a non-custom web, it can face drastic downgrades. On the other hand, custom CRM development offers the highest quality possible as it is tailor-made for specific business requirements. 
Flexibility
Custom web applications, in contrast to pre-built web apps, provide unparalleled flexibility that caters to the specific demands of organisations and customers alike. Customised web apps are similar to a blank canvas, allowing organisations to build a personalised solution from the ground up that completely corresponds with their needs, branding, and workflows. Custom web apps provide organisations with complete flexibility and limitless options, from selecting the necessary technology stack to creating the user experience. Custom web apps reflect a company's vision, allowing for easy connection with current systems and the potential to expand with the company. Custom web apps provide the freedom to diverge from the usual and give a really unique experience that distinguishes firms from the competition.
No User Limitation
Stakeholders often define a business solution for a small audience or market, especially in the early stages of the startup. But as the business grows its user count also increases so as the load on the business website server. This causes crashes, load speed and maximum bandwidth usage. Custom web applications enable firms to extend their operations smoothly, enrol new users, and service a growing consumer base. Pre-built web apps, on the other hand, may restrict the number of users permitted, which can be a burden as organisations develop and change. Custom web applications allow businesses to provide their clients without constraints and extend their operations as needed.
Easy Upgrades
Custom web applications offer a significant edge over pre-built web apps regarding updates, making the process a pleasure. Custom web apps allow organisations to plan and deploy improvements at their own speed without relying on third-party vendors. This implies that businesses can readily adjust to shifting requirements or technology. Scalability and future-proofing are built into custom web applications, allowing for smooth updates and additions as needed. This allows businesses to remain ahead of the competition by keeping their web app up to date with the most recent features and security precautions. Pre-built web apps, on the other hand, frequently have limits in terms of upgradeability.
Full Proof Security
Hackers always attack websites and applications with a wider audience range. They always try to get the most out of a breach by exploiting vulnerabilities in tools that contain user data. Pre-built websites and web applications are always on target. On the other hand, a custom web application is a dedicated solution for a business and comes with high-security features. These customised systems are built with business security in mind and most importantly, developers are always in contact to fix any possible loophole within the system. Even if a hacker tries to breach it, the system data is always backed up to another server.
24/7 Support
As mentioned above, the developers are always in contact to fix possible vulnerabilities. Other than just loopholes, 24/7 support provides web applications to adjust the company's overall activity. Stakeholders can always add or remove features from their custom web applications. This continuous support also comes in handy for resolving any errors or bugs that may arise in the future. It allows businesses to avoid any unnecessary slowdowns and makes the overall custom web application even more efficient. 
How Programmers Force Can Help
Lastly, custom web application creation has several advantages over pre-built web apps. Custom web applications provide organisations with a personalised solution that corresponds precisely with their particular requirements, branding, and growth goals, thanks to unrivalled customisation, quick updates, and the capacity to support any number of users. Businesses have complete control over their digital presence with bespoke web applications, allowing them to design a personalised solution that distinguishes them from the competition and evolves with their needs. If you need a web app development company with infinite flexibility, smooth updates, and scalability without user restrictions, our custom software development solutions are here to help.