Mobile Application Development – Outsourcing Guide For Businesses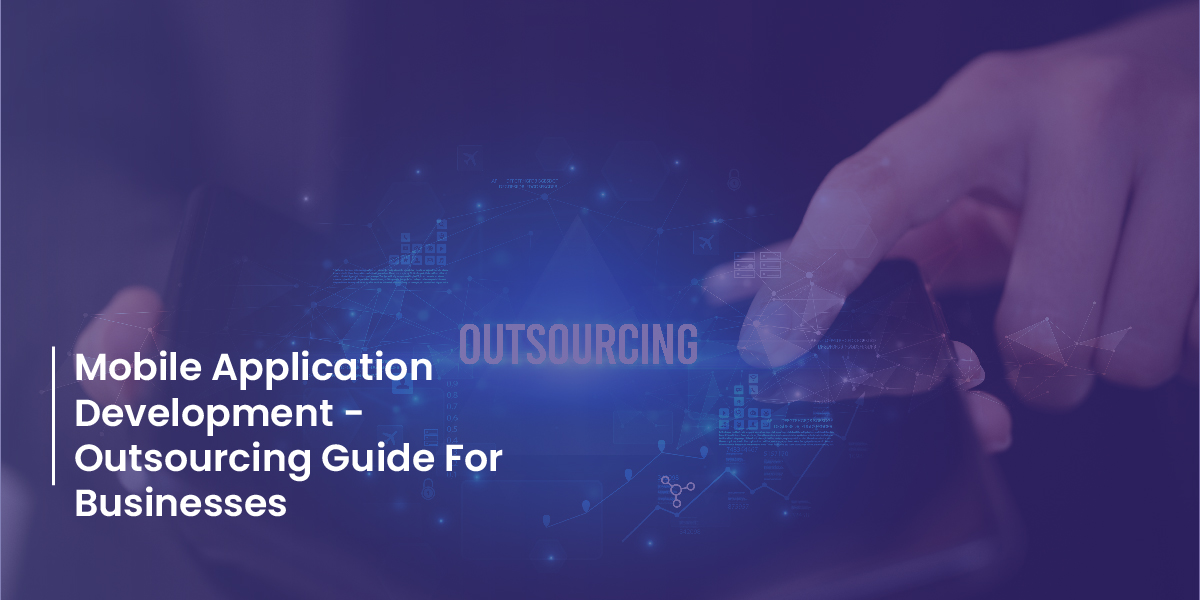 The demand for mobile application development is showing no signs of slowing down. It is one of the top software development services dominating in global IT or tech industry. In 2023, mobile app development revenue is projected to reach $755 billion by 2027 at an annual growth rate of 8.58%. These enormous figures illustrate the importance of mobile application development for businesses that operate in the digital space. Large-scale enterprises adopt mobile application development as the main driver for user engagement. But startups often struggle when implementing their ideas right into mobile applications. This is where outsourcing steps in. This blog will cover all the important aspects of mobile application development outsourcing and how it can help startups in the long run. 
What is Mobile App Development Outsourcing?
App development is a complete process that involves planning, resource management, utilisation of technology, and workforce. It is a costly operation requiring an understanding of mobile application fundamentals and programming paradigms. Startups and especially the ones which are from a non-technical background, struggle to get all these things right. To get the best mobile application, they need to outsource their operations. Outsourcing is the process of hiring a company to carry out all the required application development operations and processes. 
Why Outsourcing is Important?
Outsourcing is an excellent option for startups that need to enter the digital world without investing large amounts of finances in creating an IT department. Outsourcing is a great solution for getting the end product without worrying about the processes and all the hassles of production and deployment. In mobile application development, outsourcing is an optimal way for non-tech businesses to solve their mobile application development needs. 
Benefits of Outsourcing Mobile Application Development
When it comes to software development, especially mobile applications, outsourcing provides many advantages that fulfil all the software development needs. A company that opts for this kind of outsourcing typically reaps great advantages. Here are some of the top advantages of outsourcing mobile application development.
Budget Friendly
The first advantage of outsourcing mobile application development is that businesses can get smartphone applications on a smaller budget. Moreover, firms can control and manage their budget efficiently without knowledge of mobile application development. Depending on how a company hires, finding the right software development firm can save a lot of money. For instance, a startup needs to start a recruitment operation to find a skilled developer who can code and create mobile applications, but as the business grows and develops, it requires a complete IT team to scale up those applications as per the latest technologies and trends. Outsourcing gets rid of all these requirements and allows businesses a budget-friendly option. 
On-time Project Delivery
The ability to meet deadlines is another major advantage of app development outsourcing. It allows businesses to get the product for themselves as well as their clients on the exact specified date. This leads to better brand presence across the market and allows a business to build a strong connection among its clients and consumers. As the business grows, outsourcing helps the company to scale up or down its mobile application development operations and each project gets a 100% delivery response. 
How to Outsource Mobile App Development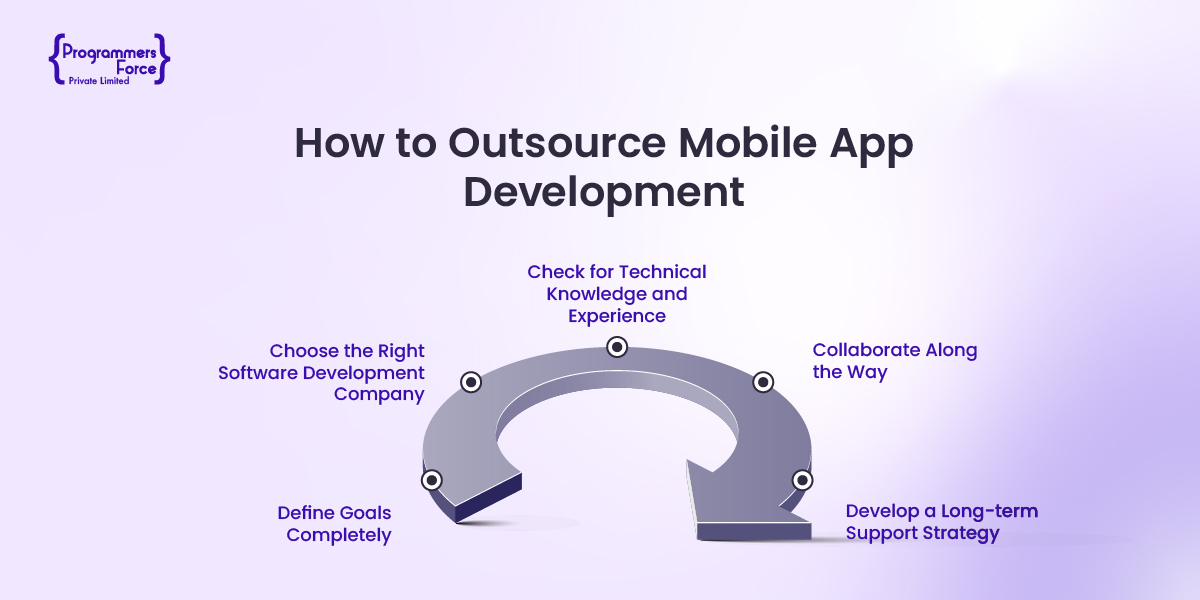 1. Define Your Needs and Goals
Before outsourcing mobile application development, thoroughly describe the project needs, including features, functionalities, and target audience. Determine the end goals, timeframe, and budget in order to express your demands to possible development partners successfully.
2. Shortlist Companies for Development
Conduct extensive research to locate reliable mobile app development companies that specialise in assisting startups and small enterprises in their early stages. Look for organisations with a proven track record, great client feedback, and appropriate industry experience. Make a short list of suitable collaborators based on their portfolio, skills, and previous work quality.
3. Examine Technical Knowledge and Experience
Examine the shortlisted development businesses' technical knowledge and experience. Consider their expertise in mobile platforms (iOS, Android, and cross-platform), programming languages, frameworks (e.g., React Native, Flutter), and new technologies (e.g., AR/VR, AI). Look for firms that can provide full-service solutions, such as UI/UX design, development, testing, and post-launch support.
4. Communicate and Collaborate
When it comes to outsourcing mobile app development, effective communication is critical. Examine possible partners' communication routes and procedures. Throughout the AI development process, make sure they are responsive, provide regular project updates, and are open to cooperation and input. Look for an outsourcing organisation that provides project management tools and processes that are compatible with business audiences and niches.
5. Create a Long-Term Support and Maintenance Strategy:
Mobile applications require ongoing support and maintenance even once the initial development is accomplished. Talk with the outsourcing partner about post-launch support options and Service Level Agreements (SLAs) for bug repairs, feature enhancements, and regular updates. Ascertain if they are capable and ready to help meet your changing business needs.
How Programmers Force Can Help
Finally, for startups and organisations in their early stages, outsourcing mobile application development can be a strategic move. Organisations may harness the skills and experience of external teams to bring their mobile app concepts to life by carefully selecting the proper development partner and building a successful partnership. Clear communication, a well-defined project scope, and adherence to quality assurance methods are all necessary for successful outcomes. Furthermore, outsourcing enables organisations to gain access to specialised expertise, lower development costs, and concentrate on core capabilities while ensuring timely delivery and continuing support for their mobile applications. The Programmers Force is a leading software development company that supports startups and emerging businesses with the best-in-class software solutions in both web and mobile applications. Looking for the right company for your outsourcing operations? Talk to our experts now to get a detailed overview of how we can fulfil your goals.